6 members of Ryanair cabin crew fired over 'staged photo'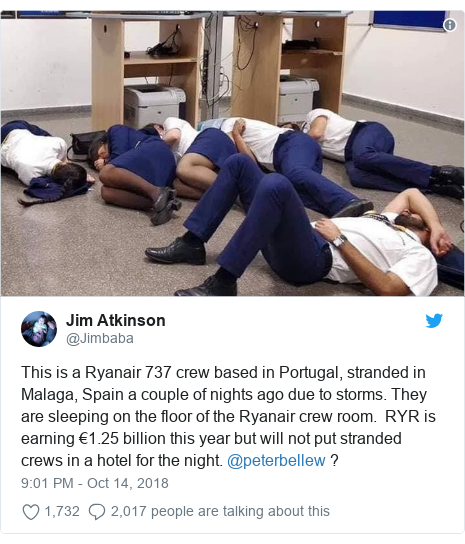 The budget airline, Ryanair, has fired 6 Cabin Crew for gross misconduct after it is believed that they staged a photo to show their selves sleeping on the airport floor after RyanAir reject their request to be sent to a nearby hotel.

The image which has been exposed by Ryanair on twitter was widely spread online and on some major news outlets and Ryanair has claimed this has destroyed their reputation, especially in Portugal, where a union posted a claim that the members of staff were left "without access to food, drinks and even a place to sit down". It was also said that there was "minimal rest facilities".
The crew was grounded after a diversion to Malaga, and Ryanair has claimed that there was next to no hotel rooms left after the Hispanic Day national holiday that takes place in Spain. The CAA says that cabin personnel are allowed to have rest before and during their shifts but the term used is "adequate" and there is a lot of debate between Airlines and Staff as to where there is too much rest.
Ryanair has released a statement that said: "The crew spent a short period of time in the crew room and were then moved to a VIP Lounge to be returned to Porto the following day" and that this situation caused an "irreparable breach of trust"
Unions in Spain and Portugal will be appealing the firings in court and will argue that the crew returned to Porto the following day without any proper rest and without any sleep. It is also believed that they were not given any refreshments on their flight back to Portugal despite not being able to eat beforehand. 
Ryanair is not known with their relations with their members of staff and it is widely believed that they have a very high turn over due to many strikes that occur constantly but they have agreed to try and come to an agreement with their worker's union by Christmas in hopes to turn their fortune around.
are Ryanair justified with their decision to fire the staff?              let us know in the comments below
0
0
0
0
0