Spice girls in a 2019 uk stadium tour - without victoria beckham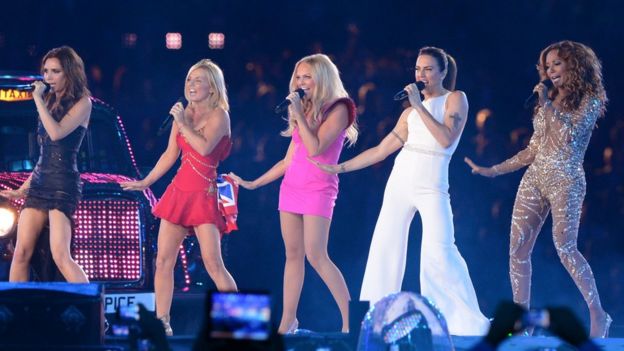 It has been confirmed that Mel B, Emma Bunton, Geri Horner and Mel C are about to partake in a reunion tour, with six dates confirmed for June next year! Victoria Beckham, however, will not be taking part in this tour. 
The 4 remaining girls will kick off the tour at the home of Manchester City Football Club, the Etihad Stadium, on the 1st June 2019 and the tickets are going on sale this Saturday at 10.30 GMT! They have also confirmed dates for Coventry, Sunderland, Edinburgh and Bristol whilst also confirming a finale at Wembley Stadium.  The video confirming this was posted like a news flash, and can see them talking about Geri's outfit before bursting into a song confirming the shock announcement. 
Victoria Beckham, who is not joining the tour, said she would be unable to attend due to "Business Commitments"  and she said the Spice Girls were very important in her life and that she hopes the tour goes well. Mel B has also announced there will be a world tour after the UK tour and she said that she hoped Victoria Beckham would feature in some of the shows, this is yet to be confirmed though. 
Of course the decision by Victoria to miss the tour has not avoided drama with Mel B deciding to dress up as Victoria for Halloween with a sign that  said "No I am not going on tour.", she was also joined by a friend who was dressed as the world superstar ex-footballer, David Beckham, saying "Please, please, please do it for the Spice Girls fans". It comes with even more controversy as it is believed that Mel B didn't even ask for permission to wear these costumers despite acknowledging their relationship being in a poor state.
It has also been announced that Jess Glynne is joining the 4 piece on tour as the starting act, she said the stadium tour is gonna "kick off".
It doesn't come as a shock that the group are doing a tour as in February, the now four-piece posted a picture with Victoria Beckham saying they were working on some new projects together and back then rumors were floating around about a tour with some new songs.
Some people believe that it won't be the same without Victoria Beckham, with some sighting that it is "disappointing in two ways"  claiming that it is unacceptable that Victoria has decided against partaking in the tour and the second reason being that the other 4 girls decided to continue their plans as a four piece. 
Do you think it will live up to the hype without posh spice? 
0
0
0
0
0