WWE Star Gives Up Title

WWE star, Roman Reigns has given up his Universal Championship title due to a long battle with l
eukaemi
a.
---
Roman Reigns announced the news on Monday Night RAW in a solo speaking segment during the show. However, although only announced on Monday, Roman had been diagnosed with the disease 11 years ago. It was cured, then returned earlier this year. 
He described that the leukaemia has returned, therefore he cannot be "the fighting champion" of his Universal Championship belt.
He also stated that this announcement will not be a "retirement speech". Instead, once he recovers the leukaemia, he "will be returning home".
After his announcement, he was greeted by team mates, Seth Rollins and Dean Ambrose, all part of tag team, The Shield.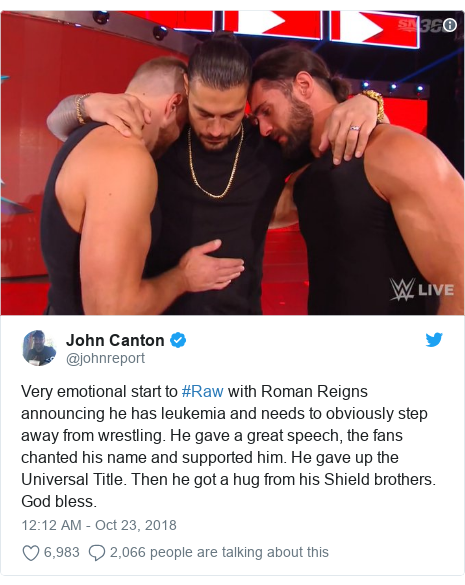 He also added, "I will beat this and I will be back so you will see me very, very soon".
Fans, and fellow co-workers from past and present have been wishing Roman well wishes on social media.
---
What people are saying

Fans have took to social media to wish Roman well wishes during this traumatic time. 
One of the people who reached out was one of his former co-workers, WWE wrestler, Booker T. He took to Twitter to wish Roman well.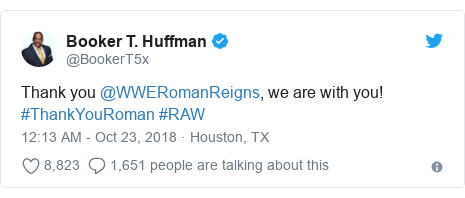 ---
Another co-worker, Fin Balor, also took to Twitter to say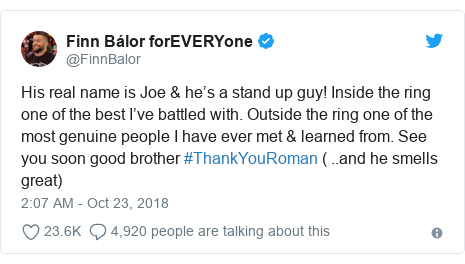 ---
Our thoughts are with Roman and his family at this tough time.
0
0
0
0
0