Welcome to another episode of Travel & Tourism, a series where we take you on a journey across the world to visit some of the nicest places on our planet!
This week, we are travelling to Denmark to visit its 3rd biggest city, Odense and its surroundings!
---
Geography & History
    As mentioned above, Odense is the third largest city in Denmark with a population of 180,000. It is     located on the  Funen (Fyn) Island, and it is also the island's main city. By road, Odense is 167 km     southwest of Copenhagen and 144 km to the south of Aarhus.
    You may be wondering, why is the city called Odense? Well, this area has been known as a sanctuary for the worshippers of Odin, a Nordic god. Therefore the name comes from the Danish "Odins Vé", which means "Odin's Sanctuary."
Odense is one of the oldest cities in the country, as the oldest excavations from the area are thought to be over 4,000 years old. First written mention about the town was in a letter dated 18 March 1988 from the German Emperor Otto III granting rights to Odense and nearby settlements.
Fun Fact: This town is the birthplace of Hans Christian Andersen, a famous novelist, poet and fairy tale writer.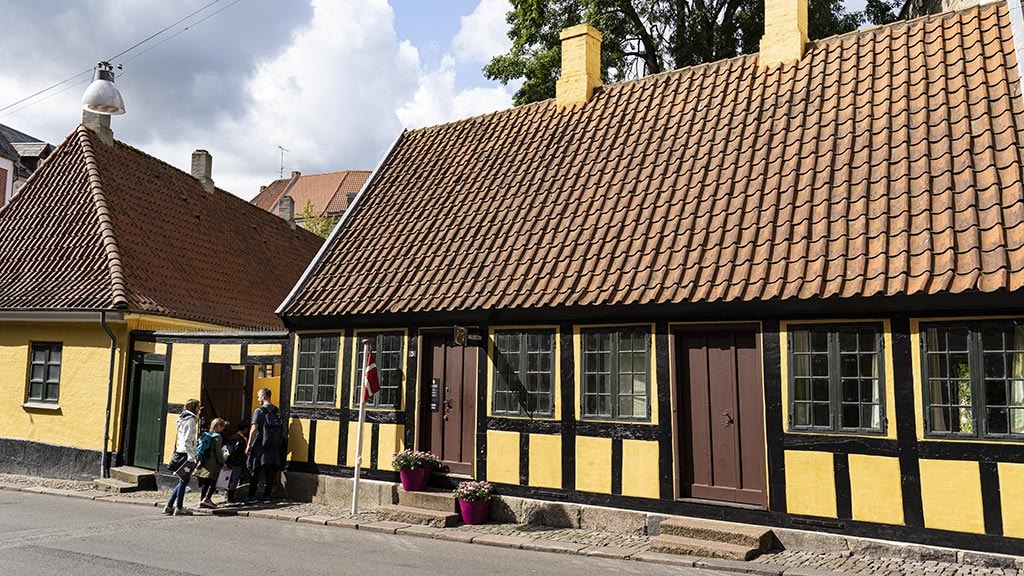 H. C. Andersen's Childhood Home | Source: visitodense.com
---
This beautiful Renaissance water castle is located near Kværndrup, around 15 km south of the centre of Odense. It was built in 1554 by Frands Brockenhuus and it is Europe's best preserved castle of its type. Surrounding the castle, there is a park covering around 20 hectares of land that's is divided into a number of gardens, for example the fuchsia garden, which is one of the biggest in Europe. It's got a rating of 4.5/5 on TripAdvisor.
The Egeskov Castle | Source: Wikimedia Commons
2. Hans Christian Andersen Museum
This museum is fully dedicated to the beloved author and is located in the centre of Odense, as the writer was born there. Displaying his manuscripts, drawings or even personal items, this place will take you back to the time in which the author grew up and worked and may also reveal a bit more about his personality...
The museum also has a shop where you can purchase any of his books in a wide range of languages. It is rated 4/5 on TripAdvisor.
Fancy building at the H. C. Andersen Museum | Source: Flickr
Are you an animal lover? Well, this place is just for you! It was first opened in 1930 with
only a few animals. Today, it has over 2000 animals from more than 140 species, such as apes, monkeys, Siberian tigers, zebras and even penguins! The entry costs 195 DKK (23 GBP) for an adult ticket and 100 DKK (12 GBP) for a child ticket. It's rated with 4.5 stars out of 5 on TripAdvisor!
Siberian Tiger at the Odense Zoo | Source: Flickr
---
That's it for this edition, hope you have enjoyed it!
What place do you want to visit next? Drop a comment below!
1
0
0
0
0