Pfizer said that its vaccine is safe among younger children 
Pfizer announced on Monday that a Phase 2/3 trial found that its Covid-19 vaccine was safe and had a "robust" antibody response in children aged 5 to 11.
These are the first findings for a US Covid-19 vaccination in this age range, and the data has not yet been peer-reviewed or published. Pfizer said it would file an emergency use permission request to the US Food and Drug Administration (FDA) shortly.
The vaccine was delivered in two doses 21 days apart to 2,268 individuals ranging in age from 5 to 11. This study utilised a 10-microgram dosage lower than the 30-microgram dose previously used for people aged 12 and up.
Image showing a young child taking the vaccination. (Credit: The Japan Times)
The immunological responses of the participants were assessed by comparing neutralising antibody levels in their blood to a control group of 16 to 25-year-olds who were given a two-dose regimen with the bigger 30-microgram dosage. According to Pfizer, the levels were comparable to older adults who received the higher dose, indicating a "strong immune response in this group of youngsters one month following the second treatment," according to Pfizer.
The Pfizer/BioNTech vaccine is presently licensed for use in individuals aged 16 and up, as well as children aged 12 to 15. Pfizer stated the study results for infants as young as six months will be available "as soon as the fourth quarter of this year."
The American Academy of Pediatrics revealed last week that coronavirus infections had increased "exponentially" in youngsters across the United States, accounting for roughly 29 per cent of all cases recorded countrywide.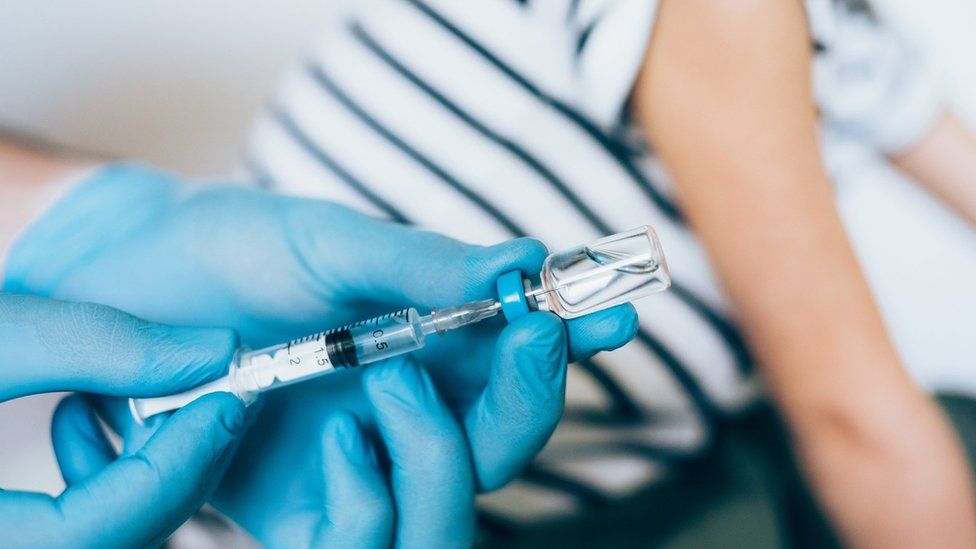 Image showing a person taking the solution out. (Image Credit: BBC)
I hope the trial will continue to be successful, and hopefully, they will approve the vaccination for younger children. 
Do you think they will approve the vaccination among younger children by the end of the year? Let us know below!

2
0
0
0
0