James Shaw denies hypocrisy over Scotland climate trip

Green Party co-leader James Shaw is protecting against allegations of hypocrisy for heading out to a climate gathering in Glasgow in the wake of scrutinising Parliament's sitting at ready level 4.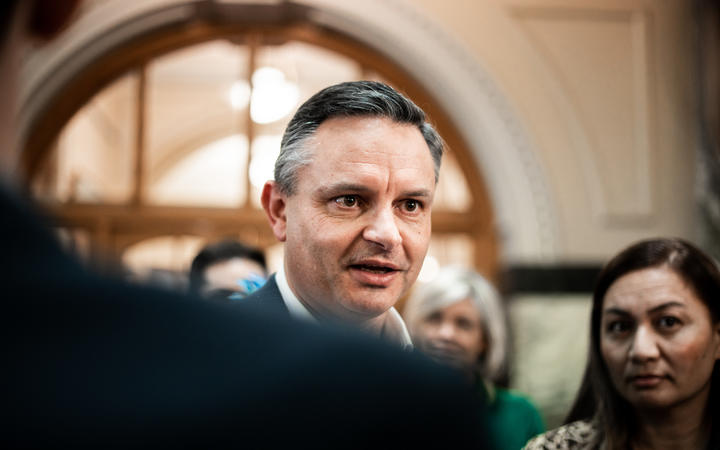 Image: Greens Co-leader James Shaw (left), Greens Co-leader Marama Davidson (right) both in parliament before lockdown. Source: RNZ / Samuel Rillstone
The Green Party has refused to attend Parliament while Wellington was still at alert level 4 on Tuesday last week. Shaw at the time had said there was a completely useful alternative that would empower MPs to telecommute - Parliament through video chatting programming Zoom - and lawmakers ought to display the wellbeing council to remain at home. He said the party was hesitant to be getting back to the House even at ready level 3. "I believe it's totally flippant, I mean it in a real sense chances individuals' lives by holding an in-person Parliament," Shaw said.
The current year's United Nations Climate Change Conference - or COP26 - is being held in Glasgow, Scotland, in November. Shaw, as Climate Change Minister, is hoping to join in. In an assertion today, ACT pioneer David Seymour said Shaw's bad faith was amazing. "Shaw is on the record saying many individuals, like instructors, have adjusted to working over Zoom. It appears to be that Shaw's respect for global meetings, this one being the 26th of its sort held, is higher than his respect for New Zealand's Parliament," Seymour said.
Image: James Shaw (left), Greta Thunberg (right) on New Zealand's rising emissions. Source: Newshub
He said it was far more detestable to travel a Covid-19 area of interest which recorded almost 6000 cases yesterday considering the interest for MIQ spaces, and the reality Shaw had pronounced an environmental crisis. "In case he was not kidding about open wellbeing - he would drop his excursion. In case he was not kidding about the environmental crisis - he would drop his outing. Whenever had any empathy for abroad New Zealanders who are frantic to return home - he would drop his outing. "Most likely in case he was treating this alleged 'crisis' in a serious way he would remain at home and not increment his emanations profile."
A representative from Shaw's office said there was nothing fraudulent in after wellbeing council. "Resistance MPs in Parliament were given the alternative to meet essentially. There is anything but a virtual alternative for COP. Precisely as he did with the re-visitation of Parliament, the Minister will follow all the wellbeing guidance, including getting back to New Zealand through MIQ," the representative said.
Image: James Shaw in Madrid, struggling on a global carbon market. Source: Newsroom
"Those countries generally affected by the environmental crisis have encouraged nations to meet up at COP to concur a significant and earnest expansion in real life, just as to speed up subsidising to help alleviation and transformation in the weakest nations. "Leader Shaw is joining in so NZ can have its impact completely in achieving this result. Obviously, assuming New Zealand is at ready level three or four in November, we will look for wellbeing counsel on the best thing to do."
What do you guys think of this? Comment Below!
0
0
0
0
0