Good Evening and Welcome to this Week's Edition of Weekly Rundown!
Staff Updates
New Staff!
This week, we have Kai joining Radio, with Dylsafc and Brandon joining Media!
Sabree and Jamie have both passed their Radio trials!
Be sure to congratulate them all on our discord!

Statistics
This week in numbers
It's a new month, meaning a brand new leader (usually) on the like leaderboard! And in this case, we have Adam on top, more than double of his nearest competitors at 31. Zane makes a very welcome debut into the top 5, coming in at 15, ahead of Infinite's 14, Chezzer's 12 and Tyrese's 11.
Staff of the week!
Best performing Staff Member
Each week, we choose someone to be the best performing staff of the week, for their work in a specific department.
This week, we have selected Ben for their amazing work in Radio!! Here's what they had to say:
Hi, I'm Ben I am 14 and live in Wales. I was brought into Upbeat thanks to our wonderful Manger storm back in September of 2020 and I'm so glad he did. Upbeat is a brilliant community who will help no matter what and its helped me a lot. This would not be possible without any of the managers admins directors or any other staff so thanks a lot for that.

Do you know your Staff team?
So last week we unveiled our new segment, and the person that was described in last weeks edition of Rundown was Kacper! (yes i did pick myself) Well done to all of you who guessed correctly!
Earlier this week, I asked a staff member to give me a few facts about themselves, to see if people know them from these facts. If you think you know who this could be, do let us know in the comments!
1. I enjoy the railway, and travelling on trains.

2. I used to be an EU Radio Manager
3. I love simulation games (preferably driving games).
We will be revealing the answer in the next edition of Rundown at this time next Sunday!
Upbeat News!
Limited Edition Icons!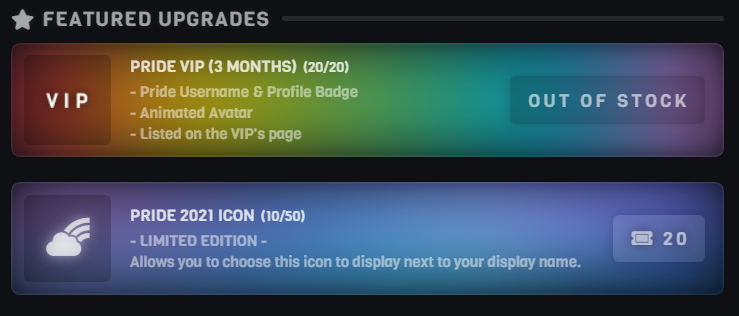 Since the start of the June, like we do every year, we have displayed our rainbow logo across our Discord server and all of socials.
Despite now being in July, we're not doing what many other corporations are doing, and we are extending our pride celebrations a little further. We also want to raise awareness and show that we care for everyone within our amazing community that has supported us for the past 5 years.

For that reason, we have just released our limited edition Pride VIP and Pride 2021 Icon.
50% of funds collected from token purchases for the above will be donated to the Lincoln Pride UK charity.
And that's it from us this week! We hope you have another safe week among the current circumstances, and make sure to tune in at 9pm GMT on Sundays for Radio Rewind, where we play Upbeat's Top 10 & bring you some of the best stuff that has happened over the past week!
2
0
0
0
0