Good Evening and Welcome to this Week's Edition of Weekly Rundown!
Staff Updates
New Staff!
This week, we have James, Clark and Panda joining Radio and Beth and Will joining Media!
Vik, Dean, Carl, Mole and Rhino have passed their Radio trials and Toby and Poppie have passed their Media trials!
Kieran has also passed his Moderator Trial!
Be sure to congratulate them all on our discord!

Statistics
This week in numbers

In the lead of the like leaderboard we have Alicia with 162 likes, followed by Tafina with 152 likes! Up next is Adam with 134 like followed by Emma with 125 likes. To finish up we have Topher with 97 likes!
Staff of the week!
Best performing Staff Member
Each week, we choose someone to be the best performing staff of the week, for their work in a specific department.
This week, we have selected Emma for their amazing work in Moderation!! Here's what they had to say:
Hey there you wonderful people! I'm Emma, and I'm one of the Moderators here at UpBeat. I've been at UpBeat on and off for the past year and a half. As a Mod, I help make sure the site and Discord server run smoothly without a hitch. I also go on air most weekday evenings, why not catch one of my shows sometime? In my spare time I am quite a travel fanatic, travelling all around the south east of England on buses and trains, photographing them as I go to keep in my archives!
I'm really happy to have been selected for staff of the week this week, it really really means a lot and it just goes to show that hard work doesn't go un-noticed here! If you're thinking of applying for UpBeat, go ahead and do it! Who knows, you may be in my shoes some day!
Do you know your Staff team?
So last week we unveiled our new segment, and the person that was described in last weeks edition of Rundown was Benne! Well done to all of you who guessed correctly
Earlier this week, I asked a staff member to give me a few facts about themselves, to see if people know them from these facts. If you think you know who this could be, do let us know in the comments!
1. I study medicine

2. I drive a Mercedes A45s AMG
3. I like food
We will be revealing the answer in the next edition of Rundown at this time next Sunday!
Upbeat News!
Limited Edition Icons!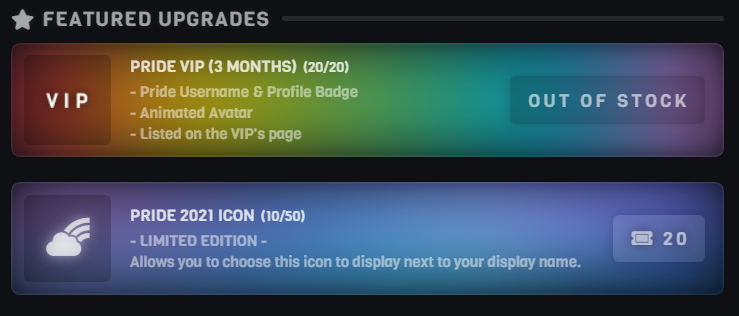 Since the start of the month, like we do every year, we have displayed our rainbow logo across our Discord server and all of socials.
But now we're half way through the month, we wanted to do even more to raise awareness and allow everyone in the UpBeat community to show that they're proud of who they are.
For that reason, we have just released our limited edition Pride VIP and Pride 2021 Icon.
50% of funds collected from token purchases for the above will be donated to the Lincoln Pride UK charity.
And that's it from us this week! We hope you have another safe week among the current circumstances, and make sure to tune in at 9pm GMT on Sundays for Radio Rewind, where we play Upbeat's Top 10 & bring you some of the best stuff that has happened over the past week!
3
0
0
0
0