Good Evening and Welcome to this Week's Edition of Weekly Rundown!
Staff Updates
New Staff!
This week, we have joining Wayne & Dani joining Radio and Matthew joining Media!
Vaxla, Massimo, Kieran, Marco & ImDylan passed their Radio trials, and Adonis has passed their Media trial!
Be sure to congratulate them all on our discord!

Statistics
This week in numbers
It's the last edition of the Leaderboard before a refresh at midnight tomorrow night! So this week, we officially crown Adam the winner over the past 2 months! He's managed to make a lead over Emma, Alicia, Tafina & Chance to take the crown! Well done everyone!
Staff of the week!
Best performing Staff Member
Each week, we choose someone to be the best performing staff of the week, for their work in a specific department.
This week, we have selected Marino for their amazing work in Media! Here's what they had to say:
Hi everybody, I'm Marino! I'm from Iceland, which is a beautiful place in my opinion. I am a bit of a programmer, I code in my free time basically. 
I also am a Media Mentor here at UpBeat, and honestly it's been a lot of fun so far. I enjoy writing and editing articles, I appreciate everybody who reads & comments on my articles, it honestly means a lot. 
When I first started radio, I've always wanted to work at UpBeat, and here I am, today, a Media Mentor.
Do you know your Staff team?
So last week we unveiled our new segment, and the person that was described in last week's edition of Rundown was Adam! Well done to all of you who guessed correctly!
Earlier this week, I asked a staff member to give me a few facts about themselves, to see if people know them from these facts. If you think you know who this could be, do let us know in the comments!
1) I joined 2 years ago
2) I've been manager
3) I'm not from the U.K or U.S.A
We will be revealing the answer in the next edition of Rundown at this time next Sunday!
Upbeat News!
Limited Edition Icons!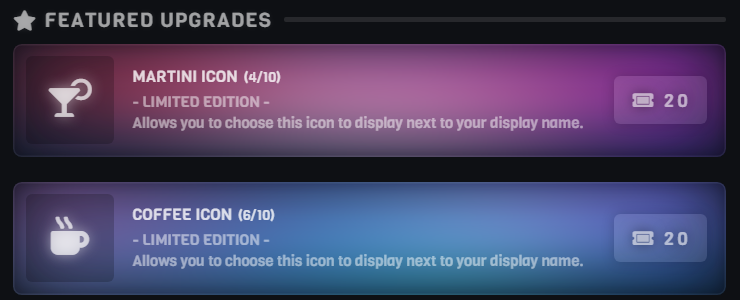 Fancy a martini or a coffee? We've got you covered!
Take a look at our updated icons in the UpBeat shop! Click here!
And that's it from us this week! We hope you have another safe week among the current circumstances, and make sure to tune in at 9pm GMT on Sundays for Radio Rewind, where we play Upbeat's Top 10 & bring you some of the best stuff that has happened over the past week!
1
0
0
0
0