Good Evening and Welcome to this Week's Edition of Weekly Rundown!
Staff Updates
New Staff!
This week, we have joining Marco, Vik, Växla, Creed, Jake, Insync and Kieran Radio!
Marco has also passed their Media trials
Congratulations also to Myst and Alicia for passing their Radio Mentor trials and Kie and Marino for passing their Media Mentor Trials!
Be sure to congratulate them all on our discord!

Statistics
This week in numbers

In the Lead of the Like Leaderboard we have Emma with 311 likes, followed by Adam with 260 likes. Up next we have Alicia with 213 likes and Tafina with 188 likes. Rounding off the second row we have Chance following closely to Tafina with 175 likes!
Staff of the week!
Best performing Staff Member
Each week, we choose someone to be the best performing staff of the week, for their work in a specific department.
This week, we have selected Tyrese for their amazing work in Radio! Here's what they had to say:
My name is Tyrese! I'm 17 years young ( I don't like to say old or else I'll feel old haha) I'm from New Zealand and I have had a passion in radio for almost a year. I started upbeat on the 21st of may as just a normal listener but overnight I got myself the role as a radio presenter for this station! I am glad to be able to provide music for the listeners. I just want listeners to be able to enjoy the music and have fun!

Do you know your Staff team?
So last week we unveiled our new segment, and the person that was described in last weeks edition of Rundown was Ben! Well done to all of you who guessed correctly
Earlier this week, I asked a staff member to give me a few facts about themselves, to see if people know them from these facts. If you think you know who this could be, do let us know in the comments!
1. My Favourite subject in school was Food Tech (Home Economics) 

2. I call people smelly
3. I like trams
We will be revealing the answer in the next edition of Rundown at this time next Sunday!
Upbeat News!
UpBeats Birthday!
Today, (23/05/21) is UpBeats 5th Birthday!  It's been an amazing few years and it's incredible to see the community still standing strong and we acknowledge that without the support we receive, we aren't where we are today! We'd like to thank every single person that has supported us throughout the years, it's been a wild ride so far and we're all looking forward to see where this is
Calling all developers and graphic designers!
Yes, we are looking for YOU! Think you have what it takes to join the Upbeat Developer or Graphic team?
For developers, click here for more details.
For graphic designers, click here for more details.
Limited Edition Icons!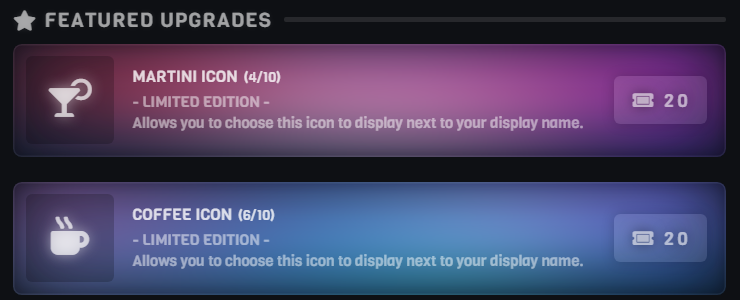 Fancy a martini or a coffee? We've got you covered!
Take a look at our updated icons in the UpBeat shop! Click here!
And that's it from us this week! We hope you have another safe week among the current circumstances, and make sure to tune in at 9pm GMT on Sundays for Radio Rewind, where we play Upbeat's Top 10 & bring you some of the best stuff that has happened over the past week!
3
0
0
0
0