Good Evening and Welcome to this Week's Edition of Weekly Rundown!
Staff Updates
New Staff!
This week, we have Blimey and Jamie joining Radio and Marco, Natty and Jackinfinite joining Media!
Bobby, Jackinfinite, Plasma and Jfrank have passed their Radio trials and Joshr, Cam and Alicia has passed their Media trials
Mathew and Topher have passed their Radio Mentor trials and Emma has passed her Moderator Trial!
Be sure to congratulate them all on our discord!

Statistics
This week in numbers

Emma has flown ahead with 279 likes, followed by Adam with 203 likes and Tafina with 182 likes!! Followed closely behind we have Chance with 175 likes and Alicia with with 169 likes.
Staff of the week!
Best performing Staff Member
Each week, we choose someone to be the best performing staff of the week, for their work in a specific department.
This week, we have selected for Plasma their amazing work in Radio! Here's what they had to say:
Hello all! I'm DJ Plasma but you can call me Plas, I have been working at UpBeat for a week now, I really enjoy the kind staff and managers who have helped me learn how to use most of the programs and have been complimenting me on my taste in music and to all the people who have given me likes and follows, I'm really surprised that I've been chosen as staff of the week I'm honestly really honoured and I hope I can work here for years and years!

Do you know your Staff team?
So last week we unveiled our new segment, and the person that was described in last weeks edition of Rundown was Dylan! Well done to all of you who guessed correctly!!
Earlier this week, I asked a staff member to give me a few facts about themselves, to see if people know them from these facts. If you think you know who this could be, do let us know in the comments!
1. I've owned a pc since I was 6

2. I can see sheep from my window
3. I climb a ladder to get into bed
We will be revealing the answer in the next edition of Rundown at this time next Sunday!
Upbeat News!
Calling all developers and graphic designers!
Yes, we are looking for YOU! Think you have what it takes to join the Upbeat Developer or Graphic team?
For developers, click here for more details.
For graphic designers, click here for more details.
UpBeat Hoodies on Pre-Order!
After popular demand, our hoodies are back!
... and this time in a gorgeous Heather Grey!
The PRE-ORDER SALE is now on in the UpBeat Shop and will end on UpBeat's 5th birthday, the 23rd of May, so get yours at a discount whilst you can! Click here for more!
Limited Edition Icons!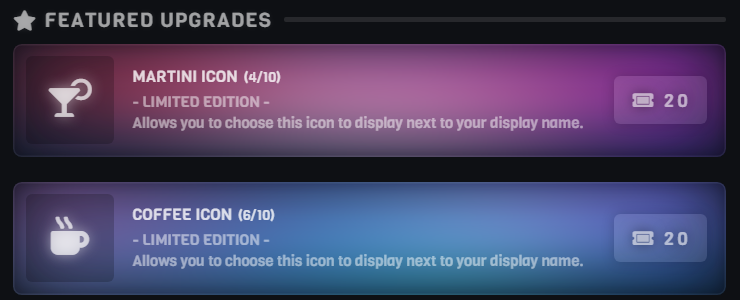 Fancy a martini or a coffee? We've got you covered! 😀
Take a look at our updated icons in the UpBeat shop! Click here!
And that's it from us this week! We hope you have another safe week among the current circumstances, and make sure to tune in at 9pm BST on Sundays for Radio Rewind, where we play Upbeat's Top 10 & bring you some of the best stuff that has happened over the past week!
4
0
0
0
0