Facebook's official twitter and Instagram hacked!
Cyber Hacking group 'OurMine' have claimed responsibility for hacking the official Facebook social media accounts. On Friday afternoon, the accounts were compromised and had a new profile picture applied to their account on Twitter and Instagram. However, the Facebook site itself remained untouched. 
The hacking giants, OurMine, posted a statement on Facebook's Twitter page which read this: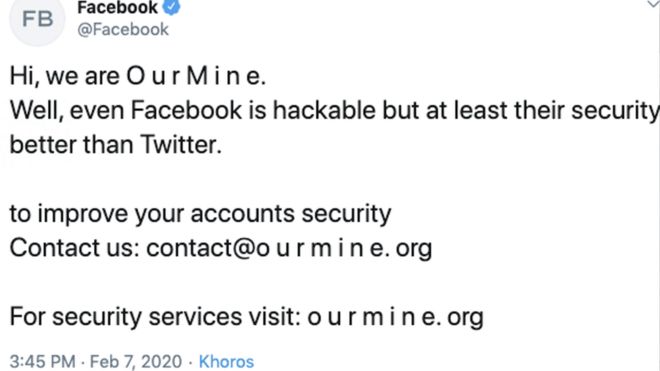 Twitter was quick to pounce on the situation and restored the accounts in quick timing to ensure that the Facebook brand has not had it's reputation tarnished or disturbed in any way, shape, or form.
Previous attacks that the Cyber Hacking giants have claimed responsibility for in the past are the hijacking of a handful of Twitter accounts from the official US National Football League at the start of 2020.
Khoros, a twitter platform the businesses use to issue tweets and manage all social platforms with ease. Both Khoros and Facebook are yet to release a statement regarding what has happened recently. 
Personally, I believe that in 2020, Cyber Security is overlooked and should be much tighter. I am a very strong believer in that security is as important as the product that a company are to sell. However, Facebook has failed to protect this side of their company. The internet can be a dangerous place and this attack does nothing but justifies this.
What do you think about this? comment below and tell us!
0
1
1
0
1