Eminem raps about manchester attack?
Just about an hour ago, Eminem has been referred to as "pathetic" and "horrible" after he was seen rapping about the Manchester bombing in his latest song called Unaccomodating.
The worst thing is that this is not the first time the 47-year-old has made references about the shocking attack.
In 2018, he sang a freestyle about a brainwashed suicide bomber which was extremely offensive. His comments were obviously going to be given attention by Grande Fans and they described Unaccomodating as a "pathetic attempt to get attention".
What is even fascinating is that Eminem's fans tweeted on Twitter about the meaningless song. One huge fan of Eminem said "I'm a huge Eminem fan but the lyric about the Manchester bombing is so disrespectful. Possibly my all-time favorite artist has left me disappointed with such a bizarre and hurtful lyric aimed at my city."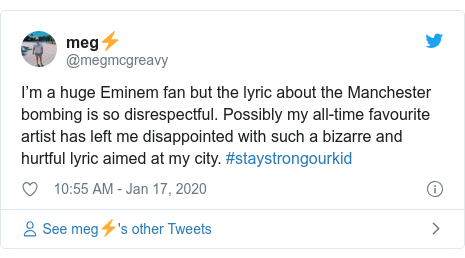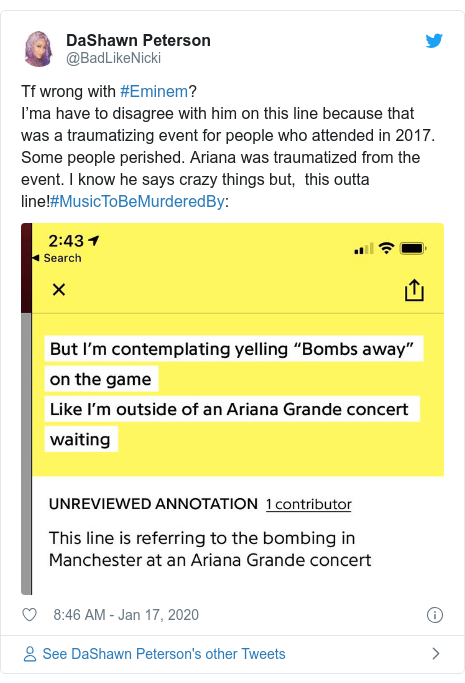 Above are some examples of fans or just people, in general, going against Eminem's lyric in his new song. 

Moreover, people have the right to be angry because when this terrible bombing happened in 2017, Eminem could not stress to his fans to donate money to the families who had been affected and he also pledged his own support.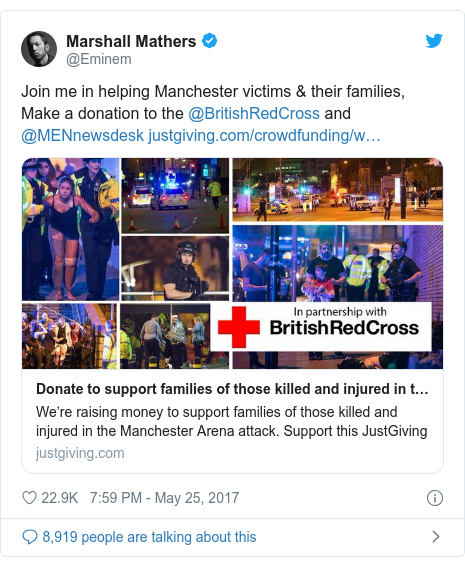 In my opinion, I have always loved Ariana Grande, not too big of a fan of Eminem.
However, I think what he did was extremely wrong and no one should accept his apology or feel sympathy for him in any way because first, he pledges to support those families that had been affected to get everyone to like him and then he does this to try to get attention.
I think that it is utterly disgusting to act in such a manner, the Manchester Bombing was not a joke, there were so many teenagers there as Ariana Grande attracts a young audience of boys and girls including adults. 
what do you think about the situation? let us know below!
1
0
0
0
3