GRETA THUNBERG CHANGES BIO AFTER TRUMP DIG!
    Climate activist and global sensation Greta Thunberg who recently was announced as Time person of the year             2019 at only 16 years old changed her bio to mock President Donald Trump's tweet. 
   He said that she had an anger management issue and should go to a good old fashioned movie with a friend.
   After the dig from the president, she changed her bio to say that she was "a teenager working on her anger management problem. Currently chilling and watching a good old fashioned movie with a friend"
   On Tuesday she changed her bio to 'pirralha' which means brat in Portuguese. The bio was changed to this after the Brazilian President criticised her highlighting the plight of Brazil's indigenous people. 
   In October she changed the bio to a "kind but poorly informed teenager" because of how Russian President described her at a conference in Moscow.
   She's also recently gone to a UN global climate change conference in Madrid where she addressed world leaders and, accused them of "clever accounting and creative pr" because of this they're not tackling the real issue. 
  The young climate activist from Sweden has expanded her influence to millions of people and is paving the way for others. In 2018, she started her own movement called school strike for climate. Since then she has 3.3million                followers on Twitter and 8.7million on Instagram that she continues to inspire especially the younger generation.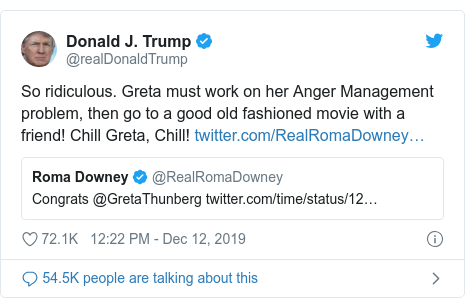 what do you think? let us know in the comments below!
2
1
0
0
1