James Haskell addresses 'bullying' rumours on I'm A Celebrity Get Me Out Of Here!
Former Jungle star, James Haskell, accused of bullying in camp?
James Haskell, 34, who previously played Rugby internationally for England entered the Jungle for the popular TV Show, 'I'm A Celebrity Get Me Out Of Here' in November was the fourth celebrity to be voted off the show.
During his time in camp, many viewers at home found him to be rather rude towards his fellow campmates, and many viewers took to Twitter to complain primarily about James Haskell. Here is a comment from a viewer at home which called James out due to him making fun of a disability named, 'Clubfoot'.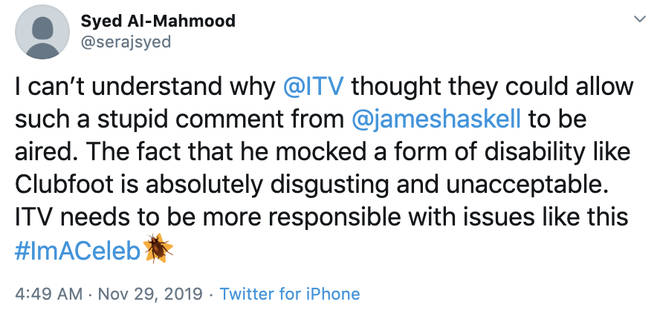 As you can clearly see, MANY viewers at home were not happy with James and were quick to vote him off the show.

Now that James is out of the Jungle, he was invited to an interview! During that interview, he talked about his jungle experiences, his campmates and much more.
He was interviewed by Holly Willoughby and Philip Schofield, and his wife, Chloe Madeley joined him. James explained that he didn't enter the Jungle to be a leader and take control of everything, however, it was more of a personal challenge for himself.
James then continued and mentioned: 'I went in to have fun, I didn't want to take on a leadership role but I have been around team sports my entire life and sometimes debating stuff gets frustrating'.
Chloe Madeley, the wife of James added during the interview that James can endure 'hangry' episodes, causing him to lose control and get frustrated.  
She then added:  'James is not great with spiders, he has a panic attack when he sees one at home, but by day five I could see he was getting really hungry. His whole face started to change and he looked different, and before he had his hangry episode, he was sleeping a lot and he doesn't do that so I knew it was coming before the tornado hit.'
James was accused of making multiple digs at campmate Andy Whyment, shutting down Kate Garraway, and ridiculing Ian Wright for the way he ran through the Jungle. James went on to say, 'Look at that clubfoot', which was the tipping point for most viewers at home.
What are your opinions on this? Do you think the comments made by James were out of line? Let us know down below!
0
0
0
0
0