WELCOME TO
MAINSTREAM MONDAY
WEEK FIVE
---
WELCOME TO THIS WEEK'S EDITION OF MAINSTREAM MONDAY!
---
Mainstream Monday is a weekly article to keep you up-to-date with the latest social media drama and an insight into the deep world that we call the internet...
---
YOUTUBE
KSI & LOGAN PAUL
Two popular YouTubers have the boxing rematch of a lifetime, but who came out successful?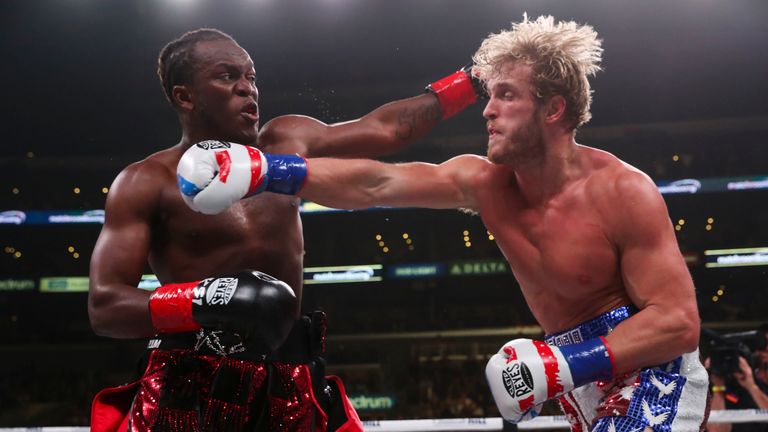 I'm sure you know who KSI and Logan Paul are, but here's a bit of insight if you don't.  KSI is a British comedy YouTuber who lives in London.  He is part of the popular YouTube group, 'The Sidemen'.  KSI is mainly known for calling out different YouTubers and then fighting them.  While on the other hand, Logan Paul is a-, well I think we all know what he is...
Back in February 2018, KSI fought British YouTuber, Joe Weller.  He then won the fight and proceeded to call out Logan & Jake Paul.  Later that year, the fight took place.  Deji vs Jake Paul & KSI vs Logan Paul.  Jake Paul came out victorious against Deji, however, KSI and Logan Paul drew in the fight.  A rematch was then scheduled for the following year in LA.
2 days ago, the two fought again at the Staples Center in Los Angles.  Fans were expecting Logan to win, but they were proven wrong.  After many rounds of intense boxing, KSI came out victorious due to a split decision between the judges.  Fans have been overwhelmed by the fight & by what KSI has most recently said.  He stated that he thinks he could 'destroy' Justin Bieber in a fight.  What do you think about this?  Let us know down below!
---
SNAPCHAT
BRAND NEW ME
Each week I will be picking a crazy Featured Snapchat Story to document about, this week is Brand New Me!
Brand New Me is a Snapchat Show that features before and after images of people going through extreme weight loss.  It's an inspiration to many, seeing how these people have transformed over months.  As you can see in the image above, the change is absolutely incredible.
For example, a recent episode shows a young boy who has lost over 200lbs.  It completely changed his life.  He described that when he was younger he thought he'd just be 'the fat kid' for the rest of his life.  People have been inspired by this man to go out there and lose weight themselves.
In my opinion, this is the correct use of snapchat.  They're using it to help people and inspire them to go out of their comfort zone!  Make sure to check it out on Snapchat!  Be sure to come back next week as I will be documenting another crazy Snapchat Show/Publisher!
---
TWITTER
#DNAJOURNEY
Ant & Dec's brand new TV programme, DNA Journey, has caused fans to talk about the new show on Twitter!
Ant & Dec, popular TV presenter duo have been friends presenting together for over 10 years.  The duo present shows such as Britain's Got Talent and I'm A Celebrity: Get Me Out of Here!  The two have recently started a new show, DNA Journey, and there has been some emotional talk about it on Twitter.
Ant McPartlin has left the viewers in tears after he explained he is taking a break from the industry as he repairs his addiction, relationships and personality.  The popular presenter was arrested for drink driving last year, he was then admitted to rehab and is still recovering to this day.
He claims that this has really tested their bond as friends, it's been a tough couple of years and Dec has been the most supportive person in the world to help him get through it.  Let me know what you think about this down below!  Make sure to come back next week as I'll be documenting another trending topic from Twitter!
---
INSTAGRAM
@CHINVENTURES
Every week, I'll be talking about a bizarre Instagram account I've found and giving you an insight into what they post!  This week, it's @chinventures!
@chinventures is a personal blogger known for traveling around the world, taking pictures at each destination with her double chin.  This isn't bizarre but I just found it very funny, hence I included it.  From the second I loaded her page, I was thrilled by the number of double chin pictures that were there before my eyes!
In the first image, we see her standing in a very colourful, lit up plaza.  In the second, we see her standing in a football/baseball stadium.  In both images, we are lucky enough to witness the iconic double chin, an absolutely outstanding sight to behold.
I don't know about you, but I instantly clicked the follow button, you should too!  If you like double chins and traveling, you'll love this Instagram page, so make sure to check it out!  Make sure to come back next week as I showcase another bizarre Instagram account!
---
I HOPE YOU'VE ENJOYED THIS WEEK'S EDITION OF MAINSTREAM MONDAY!  BE SURE TO LET US KNOW WHAT YOU THINK ABOUT THESE TOPICS DOWN BELOW!
SEE YOU NEXT WEEK!
2
0
0
0
0