A Californian wildfire was sparked no more than 10 minutes after a nearby power line was damaged
'A high voltage tower was reported damaged nearby to where the Kincade Fire started' said Pacific Gas & Electric (PG&E).  Recently, close to 40,000 people have been evacuated from their homes in the state due to the blazing wildfires, driven by powerful winds in the area.
One of PG&E's powerlines caused the state's deadliest wildfire in history, they don't have an amazing reputation in California.  It is still unknown whether the glitch in the power line caused the recent Kincade Fire.  The company apparently shut off one of its power lines due to the wildfires nearby, although the lines were still active when the fire ignited.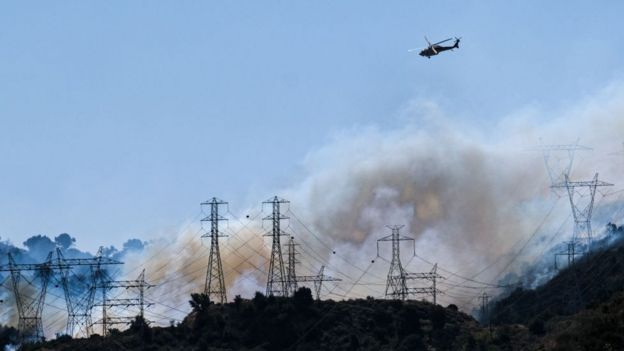 The recent Kincade Fire, which started the other day, has burned through 16,000 acres of land and 1,300 firefighters have been tackling the blaze.  "This is an emotional time for many people"  stated the County Sheriff Mark Essick at a news conference last Thursday. "It's only been two years since the fires that devastated our community."
Reportedly, a 'broken-jumper' was discovered by the company at 21:20 on Wednesday evening.  The fire was believed to start at around 21:27, only 7 minutes after the fault was detected.  Nearly 180,000 homes woke up without power on Thursday morning due to the shut off the night before.  93% of power was restored by Thursday night, however, some homes are still experiencing issues.  Schools in the LA district were shut on Thursday and Friday due to safety concerns and air quality.
Do you think PG&E should be faced with consequences for this and what do you think these fires are doing to our environment?  Let us know down below!
0
0
0
0
2