WELCOME TO
MAINSTREAM MONDAY
WEEK TWO
---
WELCOME TO THIS WEEK'S EDITION OF MAINSTREAM MONDAY!
---
Mainstream Monday is a weekly article to keep you up-to-date with the latest social media drama and an insight into the deep world that we call the internet...
---
YOUTUBE
MR. BEAST
Mr. Beast has recently been exposed for 'bullying and harassing' his editors within the workplace..
At this point in time, this is a very controversial topic.  Turnur, a retired Mr. Beast editor, has been describing his work experience for the YouTuber as 'the most mentally draining time of his life'.  A lot of this doesn't add up though, Turnur uploaded a video around 6 months ago explaining how amazing Mr. Beast was when he retired.   So what's changed since then?
Turnur described in an exclusive interview that Mr. Beast was really kind to continue paying him to help him pursue his dreams and backpack across Asia after he retired.  He is only now saying that the job wasn't as pleasant as it seems.  Mr. Beast would call Turnur 'mentally retarded & replaceable' daily and the evidence is there to back this up.
Turnur tweeted on his private twitter account last year (while working for Mr. Beast) that the experience was painful and that he wanted to quit.  This is evidence proves that he isn't just making it up on the spot for 'clout' as many are describing.  Not only Mr. Beast but that his 'Momager' (Mum & Manager) was apparently extremely rude to him the entire time.  I recommend looking into the situation online if you want to learn more, there are many amazing YouTube videos going into full-depth regarding what happened.
---
SNAPCHAT
FAIL ARMY
Each week I will be picking a crazy Featured Snapchat Story to document about, this week is Fail Army!
'Every success begins with a failure.' described the hosts of this popular Snapchat Show that has been appearing in people's 'Featured' section recently!  If you haven't seen Fail Army before, it's actually quite enjoyable.  The show consists of failed attempts at extreme activities, a bit like 'You've Been Framed', a popular UK TV Programme.
For example, one of the recent episodes consists of a boy jumping off a set of swings and catching his shirt on a large metal fence in front of him, it does look quite painful.  Another episode shows someone riding a horse, then steering off course and falling into shallow water.  The rider falls off the horse and then gets repeatedly trampled on by the 6-foot animal.
Although most of the fails are pretty funny, some look very painful and I can't imagine what it would feel like being in that situation.  Who knows, you might enjoy the series, be sure to check it out on Snapchat!  Make sure to check back next week, because I'll be documenting the popular Snapchat Show 'So Satisfying'.
---
TWITTER
#BULGARIA
Bulgaria vs England football game temporarily halted due to racist comments from fans in the crowd!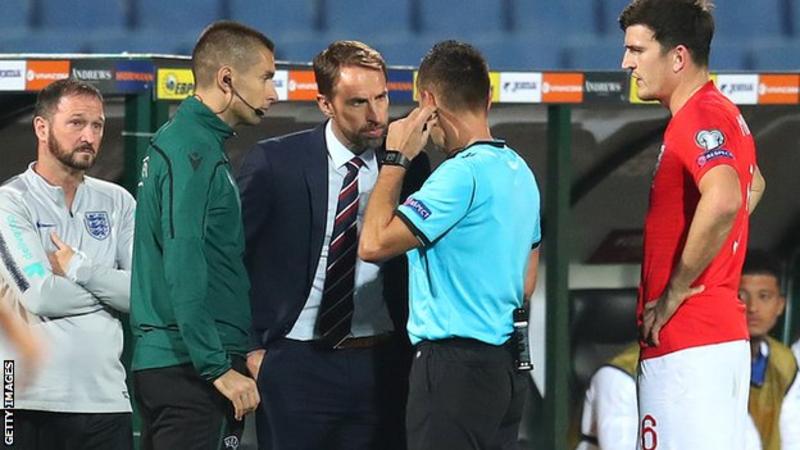 Recently, people have been complaining on Twitter using #Bulgaria regarding a racist comment from a fan in the stands.  After the game, the Football Association stated that "We can confirm that England players were subjected to abhorrent racist chanting while playing in the Euro 2020 qualifier against Bulgaria."
Potential incidents of racism dominated the build-up to the start of the game.  Tammy Abraham, England Striker stated that players were prepared to walk off the pitch if any racist jokes were chanted/mentioned throughout the course of the game.  Tyrone Mings, England Defender glanced over his shoulder and said, "Did you hear that?" after making a pass.  Within minutes, the game was stopped.
In my opinion, this is absolutely disgraceful behavior, especially from fans.  Let me know what you think about this down below and how it should be dealt with!  Make sure to come back next week as I'll be documenting another trending topic from Twitter!
---
INSTAGRAM
@BRUNOPONTIROLI
Every week, I'll be talking about a bizarre Instagram account I've found and giving you an insight into what they post!  This week, it's @brunopontiroli!
@brunopontiroli is known for drawing animals holding impossible positions at various angles.  As you can see, it looks a bit bizarre.  These are only some that caught my eye because I think they both look a bit weird and sum up his entire page.
In the images, we see what looks like a moose holding a gymnast-type position, oddly funny?  In the other, is some sort of animal holding a handstand, but bending their back at an impossible angle.  Bruno describes his passion for drawing images like these saying that his aim is to 'turn the narrow vision that we have of the world upside down and disturb our imagination'.
Well, my imagination is truly disturbed?!   Let me know what you think of these photos down below in the comments!  If you want to see more images like this, be sure to check out @brunopontiroli on Instagram!  Make sure to come back next week as I showcase another bizarre Instagram account!
---
I HOPE YOU'VE ENJOYED THIS WEEK'S EDITION OF MAINSTREAM MONDAY!  BE SURE TO LET US KNOW WHAT YOU THINK ABOUT THESE TOPICS DOWN BELOW!
SEE YOU NEXT WEEK!
2
0
0
0
0