John Brown, Paralympic medalist, climbs on top of a British Airways aircraft protesting climate change!
Approximately 50 people have been arrested recently after causing the delay of over 100 flights at London City Airport this week.  Climate change protests were beginning to arise around the London area, 4 days later, they began to arrive at one of London's busiest airports.
James Brown, who was booked on a lunchtime flight out-bound to Amsterdam, filmed himself sitting on top of the aircraft protesting for climate change.  "My early understanding is somebody has been arrested after they presumably bought a ticket, went through security perfectly normally, went up the steps of a plane and hurled themselves on top of a plane." quoted Dame Cressida, Met Commissioner.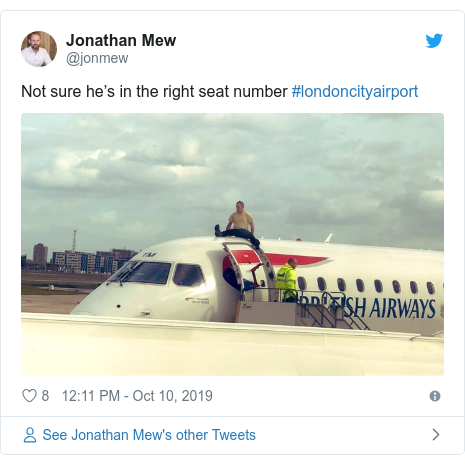 An Aer Lingus flight, Dublin-bound was delayed due to a 'smartly dressed man'.  The protester got out of his seat and started speaking a lecture on climate change while slowly making his way down the aisle.  Cabin crew calmly and carefully asked the man to retake his seat, they then alerted the pilot after he refused.
The plane then proceeded to taxi back to the gate, and the police escorted the man off the plane.  Aer Lingus claims the passenger was disembarked due to 'disruptive behaviour onboard the aircraft'.  A full security check then took place before the plane departed to Dublin.
By Thursday afternoon, protesters were flooding the airport.  Former Metropolitan Police detective, John Curran was arrested after he 'glued himself to the pavement outside the airport'.  49 arrests took place that day in total, there is a chance that the protesters may stay overnight and continue on Friday.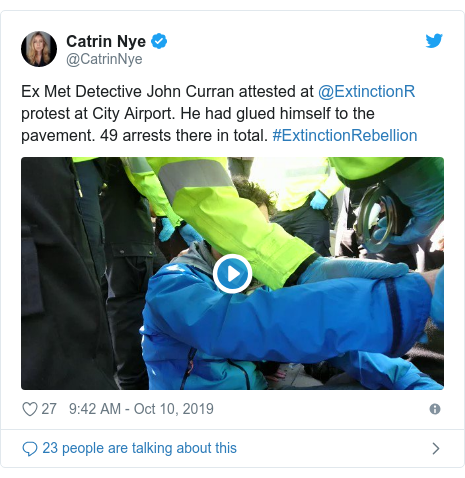 Phil Kingston, 83-years of age, was also arrested.  This was due to hundreds of people blocking the airport's main passenger entrance.  It's reported that it was the third time Kingston had been arrested this week due to being part of these Extinction Rebellion protests.
"We continue to work closely with the Metropolitan Police to ensure the safe operation of the airport, which remains fully open and operational." stated a spokesman for London City Airport.  Passengers are advised to check the status of their flight before travelling.
Do you think it is wrong that these protesters are getting arrested for protesting climate change?  Let us know down below!
0
2
0
0
0