6 Tropical Storms Form Around USA

A total of six currently named tropical storms formed in the Eastern Pacific and Atlantic basins earlier this week. 
The storms tied with the current record for the highest number of active storms in both basins at the same time. "They're forming like roaches out there," an NHC veteran forecaster, Eric Blake, said in a tweet this Tuesday.
One of the most powerful of the six storms, Hurricane Humberto, hit Bermuda this Wednesday.
The government urged people to stay off the streets during their encounter with the powerful category 3 hurricane.
Humberto caused multiple power outages across nearly half of the island, also knocking down houses and trees along the way.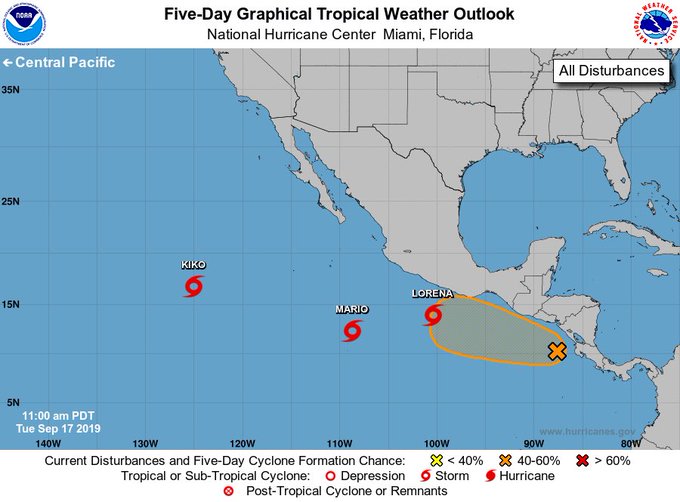 Two tropical cyclones, Mario and Lorena, formed in the Pacific, concerning Mexico and the southwestern U.S.A. 
These hurricanes came up past Mexico, threatening tourist resorts along the Pacific.
"While Humberto and Kiko were spinning in the Atlantic and Eastern Pacific, four new tropical cyclones formed Tuesday: Imelda and Jerry in the Atlantic Basin, and Mario and Lorena in the Eastern Pacific Basin," the Weather Channel reported.
Imelda formed in the state of Texas, causing major floods in the southeastern area.
The month of September and into early October is said to be the peak time period for hurricane formation in the Northeastern Hemisphere.
"It's not something that you see all the time, but not unheard of, either," said Weather Channel meteorologist Danielle Banks.
what do you think about this?
let us know down below!
0
0
0
0
0