Farewell, Nitro Games.
Last year we saw the much-anticipated release of Discord Nitro with Games. This subscription-based service featured a library of hundreds of games, however it seems the community love towards these games has died. 
On September 12th, Discord announced via a blog post that they would be making the decision to not renew the games for the Nitro Games catalogue. They said this in a press release: "The Nitro Games catalogue will be removed on October 15th, 2019.". This seems like an odd decision to make, considering the Discord development team had poured thousands of dollars into the development of the service - however is appears that a lack of interest in playing the games is the reasoning behind this decision.
On October 15th, we will be saying goodbye to Discord Games forever. Lots of people believe that this is a good decision since the games on Discord were unappealing to most audiences as they were indie games that were not very well known by Discord users. With the likes of Google Stadia and XBOX GAMEPASS having a much better library of content, for the same price ($10/month) as a Nitro subscription, more people would opt to that over discord nitro games.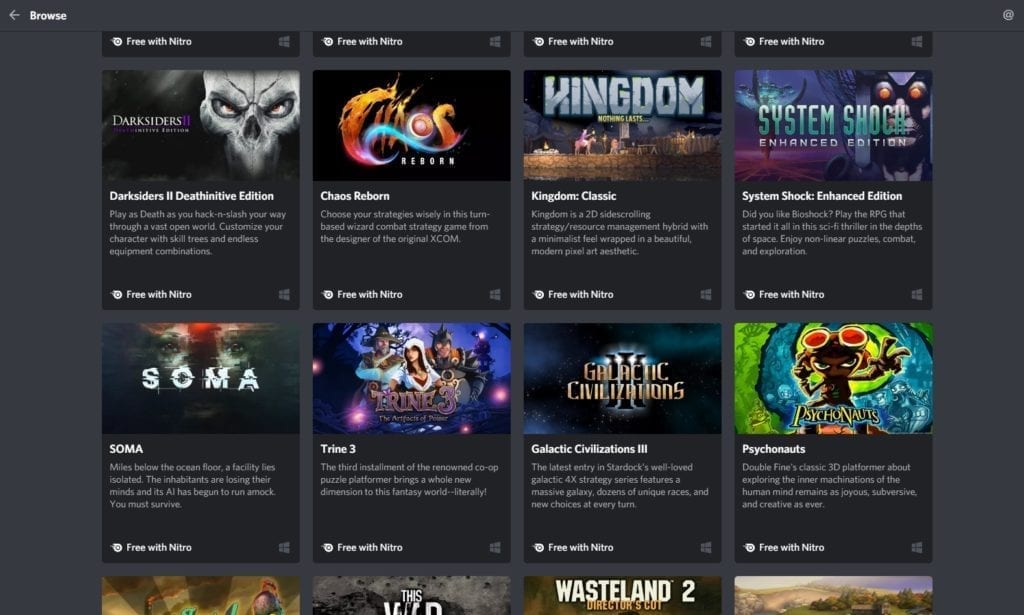 The Discord Nitro Games catalogue. Credit @pcinvasion.com
So, what can we expect to replace the Nitro games feature on the $10/month plan?
At the moment, not a lot. The main perk of having the Nitro plan over Nitro Classic (which costs just half as much), is Nitro Boosting. Nitro Boosting allows users to support their favourite servers and enables them to receive cool perks such as a vanity invite URL. 
Considering the Nitro plan costs twice as much, I believe that Nitro Boosting alone won't be enough to prevent users from switching to classic on October 15th. However, Discord has said they are open to suggestions for more features to provide Nitro users with. 
So, what do you want to see included in Nitro? Let us know in the comments below.
0
0
0
1
0