George RR Martin has some issues about the new Lord of The Rings series.

In 2020 we will get a prequel to The Lord Of The Rings which will be set thousands of years before The Hobbit. The series is said to have spend around £202 million, George RR Martin has asked the writers to fill in plot holes which he has had on his mind for a very long time.
George RR Martin thinks that Tolkien's books are one of the best in the 20th century but he also goes on to say that the book is not perfect.
RR Martin wanted to argue with Tolkien about many aspects of the book.
RR Martin says the series ended saying "And Aragorn ruled wisely and well for 100 years." but that is an easy way to end a series, RR Martin wanted to know about many things that happened after the book he wants to know what happened to the Orcs that ran off into the mountains did Aragon kill all the Orc's? did he send knights out to kill them? or were they taught how to be good citizens as they were previously elves?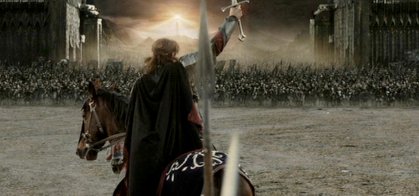 In the past RR Martin has given credit to Tolkien as he liked the game-changing areas such as Gandalf's  death as it played a huge part in the killing of the hero's.
The Lord Of The Rings series is said to be released shortly after the Game Of Thrones prequel which is said to be called 'Bloodmoon'.
Very little is known about the series as everything is being kept under wraps although an actor has been released that will be playing a part in The Lord Of The Rings Prequel it has been revealed as Will Poulter who is an actor in Black Mirror and MidSommar Fame.
The Lord Of The Rings prequel is said to be released onto Amazon Prime in 2020.
What do you think about this? Let us know down below!
0
0
0
0
0