Ed Sheeran failed music in college

Ed Sheeran has recently confirmed that in 2010 he received a letter informing him he had got six F grades in all segments of his Contemporary Music Performance course including songcraft.
He went to the Academy of Contemporary Music in Guildford, Surrey.
The letter he received is now displayed in Ipswich at Christchurch Mansion in an exhibition.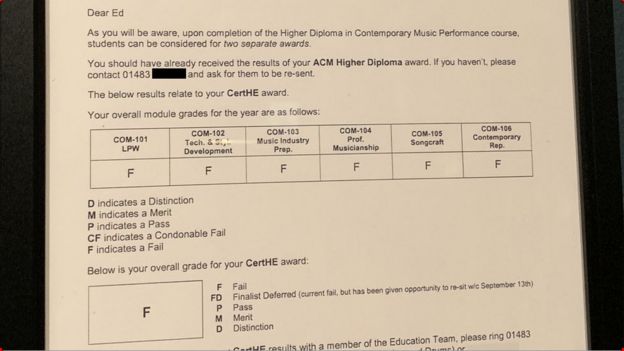 He started his course in 2009 and left in 2010 because he failed and he put more focus on his music career.
In the exhibition, there is a 2004 report of him describing him as a 'Natural performer' it reads 'Obviously at the moment his voice is beginning to change although he still has quite a lot in his higher register.'
Ed's father who curated the exhibition said Ed became 'disillusioned' in just 3 weeks as his tutors 'refused' to allow him to go on tour with Just Jack although after he quit the course he went on tour with the Starz In Their Eyes hitmaker, at the exhibit he has 
a number of old photos, props from his music videos, and paintings of the hitmaker. 
The exhibition opened 20/08/2019 which shows memorabilia of his life and career as a musician, fans will get to see never before seen pictures and photos a
nd sculptures on display depict the singer over the years.
This will include pictures from his childhood and 
drawings, sculptures, and still images from Ed's music videos.
In the exhibit, there is an image of Ed's tattooed torso and if you compare it to the picture of him as a toddler you can see his complete transformation.
What do you think about this situation?




Let us know in the comment below!
0
0
0
0
0