joe sugg lands a role in waitress in london's west end...
Earlier today, Tuesday 20th August 2019, the hit musical, Waitress, announced that Joe Sugg would be taking over the part of 'Ogie' from Blake Harrison on the 9th of September 2019. This announcement caused controversy from aspiring Musical Theatre Stars as Joe hasn't got much experience in this industry - however, he was on Strictly Come Dancing 2018 and made it all the way to the final and also has voiced in Wonder Park...
Joe is delighted to be taking over this part, saying "I'm excited to be a part of the cast and to have now landed a role in the West End really has topped off an incredible year for me. I hope I do everyone proud." 
---
What is waitress?

Waitress is a hit musical, written by Sara Bareilles, in which it follows the story of Jenna, a waitress stuck in a toxic relationship with her husband Earl. Jenna is pregnant and visits her local doctors, in where she meets Dr Jim Pomatter from Connecticut, and bakes him a Mermaid Marshmallow Pie. Later on, Dr Pomatter and Jenna meet at a bus stop and she tells him about her very unhappy marriage. Dawn then turns to online-dating following Jenna's new interest in Dr Pomatter and meets Ogie (which will be played by Joe Sugg). Dawn and Ogie have a lot in common, finding out that they both love American Revolution re-enactments. Jenna makes an appointment with Dr Pomatter, and they decide to escape their lives by kissing in their office - despite both being married.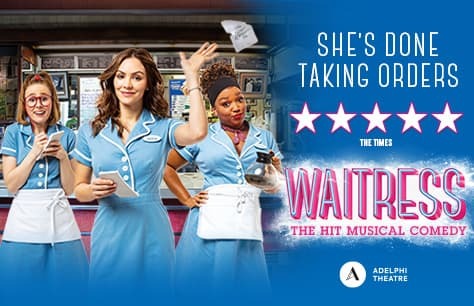 ---
who else has appeared in waitress?

Earlier this year, since opening on the West End, Ashley Roberts has appeared in Waitress (as Dawn)... Despite making her West End debut, Ashley appeared for a short 8 week run in the hit musical and wasn't afraid to hold back her character... Ashley also appeared in Strictly Come Dancing in 2018, also making it to the final alongside Joe Sugg.
At the same time as Ashley, Blake Harrison appeared in the show as Ogie. Blake is best known for his part of 'Neil' in The Inbetweeners. Harrison astounded performances with his rendition of 'Never ever getting rid of me' as many audience members didn't know he could sing!
It is unknown as to why Waitress has turned to 'Stunt Casting' but it's rumoured that the show is in a poor state and likely to close. They keep casting celebrities possible to keep there name out there and encourage people to go and watch their favourite stars in the show!
---
What do you think of this?
let us know in the comment section below!
1
0
0
0
0