The Rock marries his girlfriend Lauren Hashian
On Sunday (18/08/2019) Dwayne 'The Rock' Johnson (American actor, producer and retired professional wrestler) married his long term girlfriend Lauren Hashian (Singer and music producer) in a private ceremony.
The Rock announced that he got married to his 154 million followers on Instagram, it was liked over 7 billion times within 3 hours of him posting the announcement.
.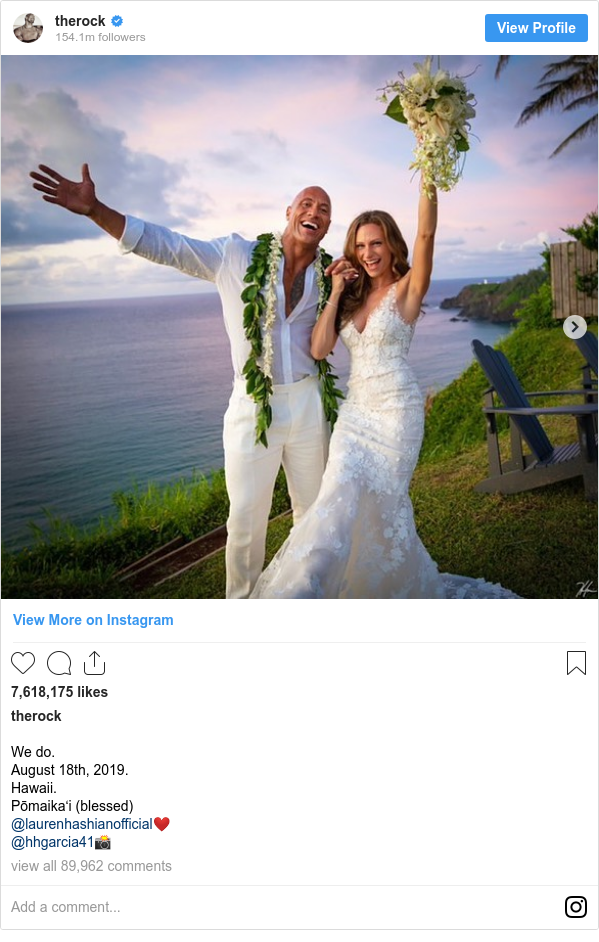 The pair met in 2016 while The Rock was filming his movie The Game Plan and since have had two children one called Jasmine (Left) who was born in 2015 and the other called Tiana (Right) who was born in 2018.
As Dwayne is an A-lister in Hollywood, he was congratulated by other Hollywood A-listers such as Ryan Reynolds, Karen Gillan, P Diddy, Jessica Chastain, Nicole Scherzinger, Scooter Braun, Nick Jonas, and Naomi Campbell, after he posted the surprise announcement. 
This is The Rock's second marriage his first wedding was in 1997 to Dany Garcia and they had one child together called Simone who is now 18.
What do you think about this situation?




let us know in the comments below!
1
0
0
0
0