A man suspended after refusing to drive an LGBT bus!

An unnamed Norwich bus driver has been suspended after a tweet surfaced where he refused to drive a bus with a rainbow sign on it, saying that "This bus promotes homosexuality and I refuse to drive it".

On the day, it was Norwich pride. Many people were relying on Konectbus (ran by Go East Anglia), to get to and from the Pride Parade. The bus was stalled while waiting for a new driver.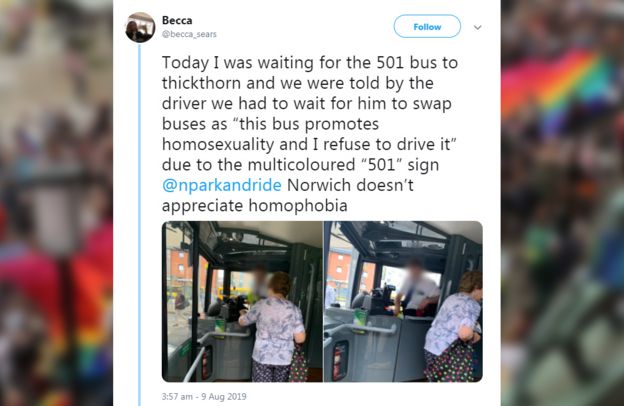 Go East Anglia said they fully support diversity and wish to welcome customers from any background. They don't condone this kind of behaviour and the driver has been suspended pending a full investigation, but is this enough?

According to a recent study, LGBT acceptance rates have plummeted among young people. Many people have speculated the reasoning for this, however, an answer is not definite. 
Some people argued the side of the driver, saying he was just expressing his views and should be given more training, not a suspension. However, most people believe he should receive some sort of sanction for his actions against the LGBTQ+ community.
What are your views on the situation?
please feel free to comment below!
0
1
1
0
1