A church has rock concerts which has 2 million followers

As Christian churches are starting to decline in the US one church is doing the opposite, they have set up rock concerts. 
The Rock concerts are very different from your average concert such as there is no alcohol anywhere on the venue being sold.
Any branding that is related has been hidden, there are volunteers which will circle the concert floor in blue vests seeking donations for a Christian ministry group, and there is a massive CGI recreation of Jesus on the cross above the stage as this is not just a concert it is a church.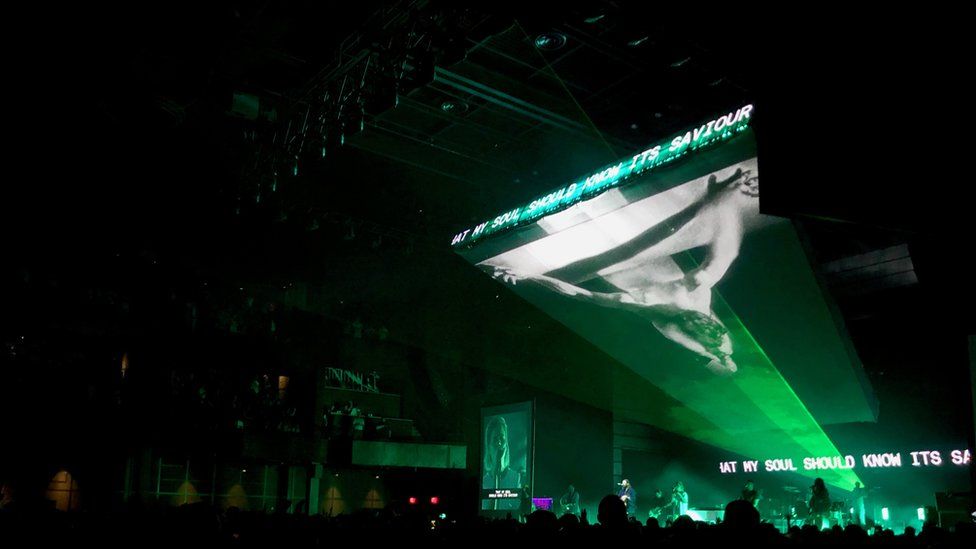 Hillsong United is a contemporary Christian church which has an intersection of Christianity and culture which was founded by husband and wife Brian and Bobbie Houston in 1983 which was in Sydney Australia.
Hillsong spans six continents and claims they have churches in 23 cities.
It is stated that Hillsong services have an average of 130,000 worshippers around the globe.

Hillsong Congregation boasts to have a celebrity following including celebrities such as Justin Bieber and his wife Hailey Baldwin Bieber (Middle), NBA stars such as Kevin Durant (Left) and Kyrie Irving who have been known to seek guidance and celebrities have been said to be tied to the church include Kylie Jenner, Kourtney Kardashian and Chris Pratt (Right).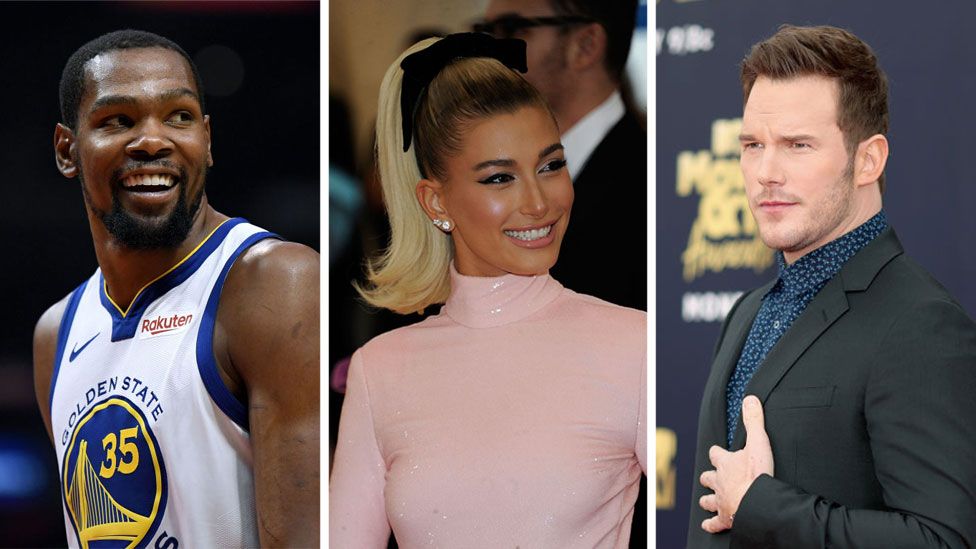 Matt Brock a musical artist has said: "They are one massively impactful ministry right now." 
Hillsong has called itself a "Contemporary" Christian church, "on a mission to see God's kingdom established across the earth."
Hillsong has over 2 million follows on Instagram, 3.5 million listeners on Spotify their hit single has had 155 million plays on Spotify.
The tie between Christianity and rock music isn't anything new but Hillsongs expanse might be, Brock says: "Hillsong is on the forefront of church music.
They're the ones that I think will do it best."
Between 2004 to 2017 the percentage of adults who describe themselves as Christian has dropped by 8 percentage points, Steven Paulikas a priest at All Saints Episcopal Church in Brooklyn has said: "We see our numbers declining and it is very distressing, looking at churches like Hillsong there are feelings of envy because our institutions are by and large losing people."
When an actor Josh Canfield who is gay joined Hillsong, he was still grappling with his sexuality in the context of his faith.
While his parents' church was explicit, its stance that homosexuality is a sin Hillsong was less transparent Canfield said: " It did feel like a don't ask don't tell kind of situation, no one is going to ask because no one wants to ask."

  In 2014, after Canfield came out about his sexuality and his role at Hillsong on the reality show Survivor after the episodes aired and Canfield's storyline gained media attention head pastor Brian Houston publicly clarified  where Hillsong stands on Homosexuality in a blog post on Hillsongs website called "Do I Love Gay People."
Houston wrote "God's word is clear on homosexuality.
Hillsong Church welcomes ALL people but does not Affirm all Lifestyles."
"But clearly we do not affirm a gay lifestyle and because we do not knowingly have actively gay people in positions of leadership either paid or unpaid."
Shortly after Canfield was asked to step down from his position on to vocalist team and he decided to leave the church, he said: "My problem is not that Hillsong believes homosexuality is a sin that is their prerogative to have that belief."
He says: "But my problem is they're not being completely open about their beliefs because they don't want those people to leave. Is that lying? In religious terms is that a sin of omission?"
But he is still defensive about his former church as Canfield has said: " You walk into Hillsong and it's cool and it's dark and there are lights going and there are all these people around you who are your age who are smiling and talking."
He then goes on to say: "And then the music starts and it washes over you.
The noise of outside gets cancelled out.
The music is so beautiful and uplifting and it makes you feel better."
And he continued with: "I don't think there's anything in the Bible that says we can't feel good."
what do you think about this situation?
let us know in the comments below!
0
0
0
0
0