A$AP ROCKY BACK PERFORMING ALREADY?
Rakim Mayers (more commonly known as A$AP Rocky) was arrested around June 30th.
This was due to a major altercation in the streets of Stockholm, Sweden. 
Many people got involved and expressed their distress at the A$AP's arrest, one major person who got involved is 45th President of the United States, Donald Trump.
He tweeted the following: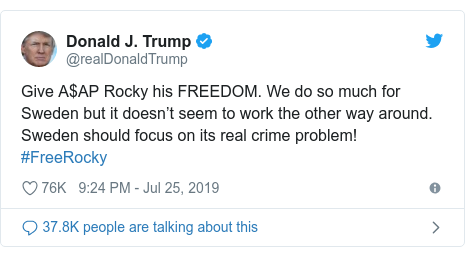 Donald Trump had been keeping people up to date with his efforts to get A$AP Rocky released, and eventually, they paid off.
A$AP was released out of the country, pending his trial on August 14th, to which he pleaded Not Guilty.
This was alongside his 2 associates.
The judge will come to a Verdict and report back.
Donald Trump said that he had spoken with Swedish prime minister Stefan Lofven about the case prior to the rapper's release.
Donald Trump also said on Twitter that Sweden had "let our African American community down."
The rapper has missed multiple performances whilst in custody, some of which include The Longitude Festival in Northern Ireland and The Wireless Festival in London, both of which are key festivals in the UK.
A$AP Rocky is set to perform at this weekends festival alongside acts like Cardi B and Future.
A$AP has not yet commented on the situation.
If he is found guilty, it is highly likely he will be extradited to Sweden.
For now, we will just have to wait.
wHAT ARE YOUR VIEWS ON A$AP'S ARREST?
let us know in the comments below!
0
0
2
0
0