Who is Etika?
YouTuber Etika; whose real name is Desmond Amofah, who is a popular gaming YouTuber aged at 29, was found dead after a search was conducted as Desmond had gone missing, whilst the search was made, Desmond's items were found on the Manhattan bridge.
Before this Desmond had uploaded a YouTube video where he had started talking about suicide, the video was eight minutes long and could have led up to this, find out more below.
After some time the following tweet was put out by the official NYPD news regarding Desmond's body being found.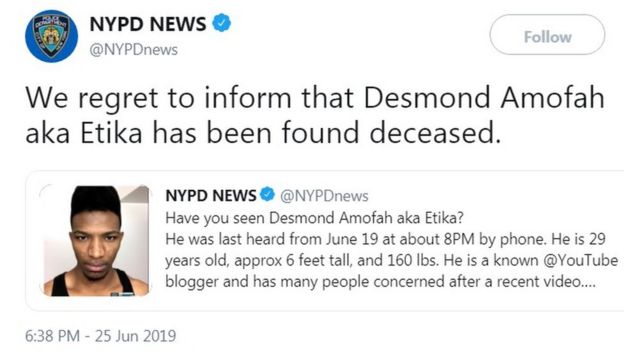 All services Desmond used to put out his content to his fan-base are still out there; Twitch, Instagram and Snapchat. Desmond's Twitter account has 321,000 followers! Also, he has 252,000 on Instagram! 
IS THERE ANYTHING THAT LINKS TOWARDS THIS?
Desmond had implied his worrying behaviour to his followers through social media, following that the police had been sent to his house after a suicide threat.
In Desmonds YouTube video he had been sorry towards people he had put aside and confirmed that he was suffering from mental illnesses, he also claimed to be cautious about using social media a lot.

TRIBUTES TOWARDS ETIKA!
Desmond's fans and friends and other YouTubers had paid tribute to him on social media, Keemstar, presenter for DramaAlert described Desmond as "a great entertainer."
"One of the best streamers in the game. He lost a channel of over 800,000 [subscribers] and made a new one and was right back pulling thousands of viewers. Wherever he's laid to rest I'll be there" Keem said.
How do you feel about Etika's Death?
Let us know in the comments below!
2
0
1
5
0