wow air's $99 u.s. flights could be about to make a comeback
Back in February 2019, the world mourned the loss of WOW air; the airline that had enabled the many to travel to the United States, with insanely cheap flights to key cities such as Los Angeles and New York.
WOW's eye-opening flights at first seemed like a great idea, however the airline soon developed a strong body of criticism over its poor service and long delays. This, along with sky-high fuel prices, plunged the airline into heavy debt which it would never be able to repay.

To avoid this tragic end, the airline tried to merge with Icelandair and the owner of Frontier Airlines, however both of these deals collapsed, leaving the airline with no money and no support.
WOW's demise left thousands of passengers stranded miles away from home. One Irish family who was traveling back home from Detroit with WOW were forced to pay almost $5,000 for new tickets.

---
The airline's CEO, Icelandic entrepreneur Skuli Mogensen, told employees he "would never forgive" himself for the demise, however it seems he already has.
Skuli Mogensen in front of one of his old planes.
Mogensen is Iceland's Sir Richard Branson or Sir Alan Sugar. He first rose to fame when he sold his communications company, known as Oz, to Nokia for millions of dollars.
Since then, he has been investing his wealth in small Icelandic projects, such as art sculptures and sporting events. He's used the name WOW for a number of years, such as for a bike rental company called 'WOW CityBike', however he entered the airline world in 2011.


Earlier this month, a crowdfunding campaign appeared online with the intention of raising enough money to buy back some of the airline's old planes and see them back in the skies.
Mogensen has said that he intends to see the airline fly again with the exact same staff team, claiming he has learned from his mistakes and will make sure his second attempt will not fail.
---
In an interview with Financial Times, Mogensen blamed his decision to purchase Airbus A330 aircraft, which were much larger than his existing fleet of Airbus A320s, as the reason the airline collapsed.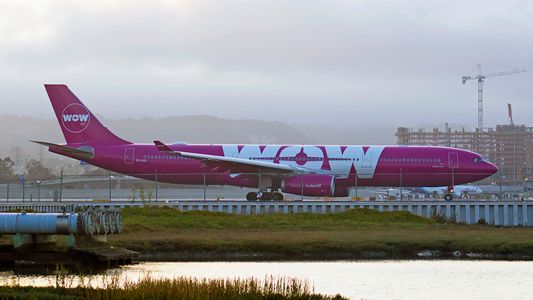 One of WOW's troublesome Airbus A330s in Delhi, India. This route was scrapped a few months after being launched.

"We wanted to use Iceland as a global hub connecting three continents," said Mogensen, "it was clear that we needed to change course fast. In retrospect, the wide-body decision unfortunately turned out to be fatal."
WOW's Airbus A330s had the capacity for almost 400 passengers, meaning the airline had to sell a lot more tickets to make a profit on these flights. This placed the airline in jeopardy; it was unable to fill its new expensive flights to places like Delhi, India and Vancouver, Canada.
Technical problems were the final nail in the coffin for WOW's A330s, which were seized by lessors due to late payments in November 2018. Despite the loss of these expensive aircraft, the debt had a long-lasting effect it would never be able to recover from.
"We still had too much debt on our balance sheet and, given a very challenging airline environment at the moment, didn't have the time to secure the funding needed" Mogensen claimed the airline had $150 million in interest alone, on top of its debt.


Mogensen plans to bring back 9 of his old Airbus A320 aircraft and will operate a select few routes which turned a profit. It's unclear if we'll ever see $99 U.S. flights again, however airlines such as Norwegian Air and Scoot have moved in to fill WOW's gap.
do you think wow will work a second time round? tell us in the comments below!

0
0
0
0
0