Justin Bieber wants Laura Ingraham sacked

Justin Bieber wants Fox News host Laura Ingraham sacked because of recent remarks about the late rapper Nipsey Hussle.
Laura was seen being disrespectful about the late rapper Nipsey Hussle.
Laura laughed while introducing a segment about the late rapper.
Laura is one of Fox News highest-paid employees.
She has her own talk show called The Ingraham Angle.
On an episode, she was sarcastically describing Nipsey Hussle as a 'dear artist'.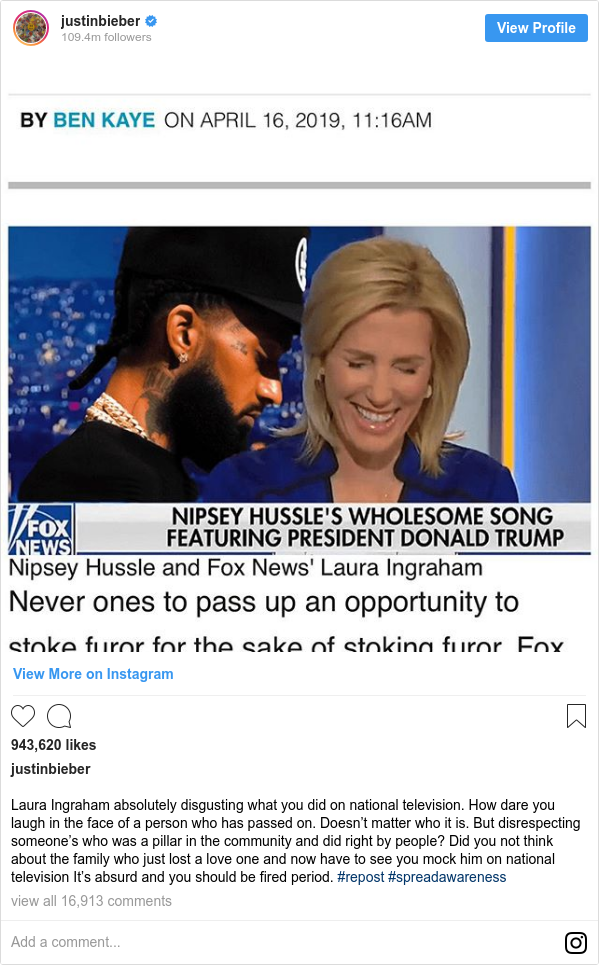 She was going on about Hussle's track, FDT, which includes a line about United States President Donald Trump.
When she heard the words about Donald Trump she commented saying:
"The chorus that goes on and on, is that related to the lowest unemployment ever, basically, for African-Americans?"
Watching Laura and hearing what she had to say about the late Nipsey Hussle.
Justin Bieber took to Instagram on Thursday demanded her sacking.
And he also mentions how she's 'absolutely disgusting'.
What do you think about this situation?
let me know in the comments below!
0
0
0
0
0