brits will be pleased to hear the weather will be warming up!



Following a week of freezing weather, with many places seeing their first snow of the seasons Brits will be delighted to hear that milder weather is on its way back from the west by the weekend. Many Brits were delighted to see the first flakes of snow falling from the sky this week as a band of rain,sleet and snow moved from north to south across the country, there was even surprise falls of heavy snow as far south as London which brought parts of the capital to a standstill during the Tuesday commute home, even forcing Transport for London to cut bus services to some worst affected areas. 
On the M6, snow caused the closure of the southbound entry sliproad at junction 4 although the road was reopen in the early hours of Tuesday, it wasn't only the midlands affected as the road network along roads such as the notorious M62 was down to one out of the 2 lanes due to a build up of snow and blizzard conditions due to a summit that is 372m above sea level. In Scotland the A83 was blocked in Argyll and Bute and the B974 in Aberdeenshire was closed after vehicles became stranded in snowy conditions. Flights to Glasgow and Edinburgh from Stornoway were delayed and three schools in the Highlands were shut because of the weather, meaning misery for some but fun for others!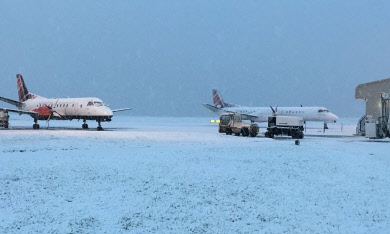 Planes stuck in the snow at Stornoway Airport.

The MET Office predicts that temperatures will rise to a balmy 10 or 11 degrees by the weekend before another bout of much colder weather will return to our shores by the start of a new working week sending temperatures plummeting once more to a rather frosty 4 or 5 degrees maximum. We are also being warned of the potential for further snow across the country next week but is something that needs to be monitored very closely as low pressure systems arriving from the Atlantic later next week may deliver a longer spell of snow which could prove to be more disruptive than the snow that many places saw this week. Winter continues to bite so don't put away those winter warmers just yet, winter may have only just started...
0
0
0
0
0