Dozens of Covid travel test companies face removal from gov.uk
The government has decided to take action on over 100 private COVID testing companies after some offered lower prices when visitors accessed their website via Gov.UK rather than directly visiting. the Health Secretary, Sajid Javid, said 82 businesses that were on the Gov.UK on the 'find a travel test provider' page were being sent a two-strike warning. Brands that fail to take action within three days of strike one will be removed as part of the two-strike policy. 
these changes come days after the DHSC, Department of Health and Social Care, carried out an inspection of the pricing standards of day two and day 8 testing providers. the inspection found that 82 companies, which make up 18% of all companies, advertised lower prices on gov.UK than to those customers who accessed their company via their official site. Mr Javid said, "It is absolutely unacceptable for any private testing company to be taking advantage of holidaymakers and today's action clamps down on this cowboy behaviour".
Source: London City Airport
Furthermore, 57 firms will be removed from the gov.UK site for advertising lower prices on Gov.UK. Javid added that a few were being removed for no longer offering Day 2 or Day 8 testing, however. 
"We are also introducing regular spot checks this week to make sure all private providers follow the rules and meet our high standards of transparency," he said
The checks will ensure the companies prices displayed are accurate and the providers are legitimate and companies haven't changed their names to get back on the list.

DHSC's findings will be shared with the Competition and Markets Authority (CMA) to support the review and recommend further actions where needed.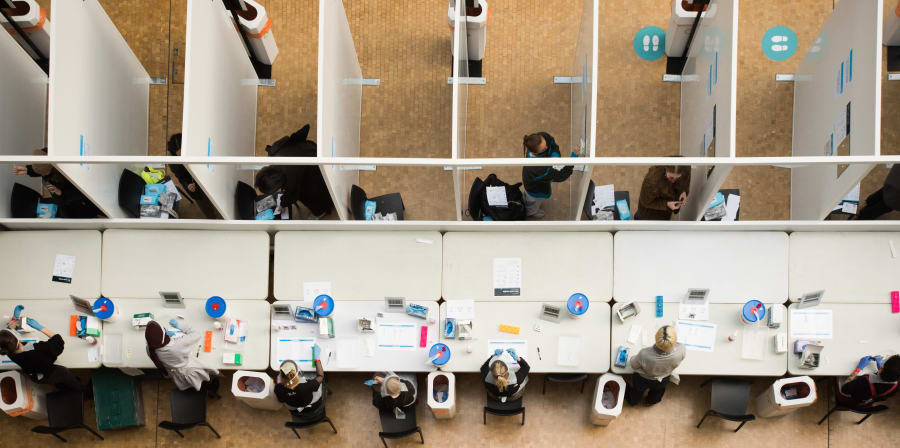 Source: University of the Arts London
However this doesn't mean prices are expected to rise, NHS Test and Trace lowered their prices back on August 13th meaning those returning from a green list country or fully vaccinated amber arrivals only now have to pay $68 compared to £88 previously. for those not returning from amber list countries or fully jabbed yet need to only pay £136 compared to £170 previously. 
These cuts came months after months-long criticism from the travel industry that prices were to high and that it would discourage families from travelling abroad due to the added costs. some companies on the Gov.uk site were charging up to £575 for tests which would add a significant cost to those travelling in large groups.
Source: The Mirror
The current guidance for England is that all arrivals must have two prebooked COVID tests, one on day 2 - or sooner and one on day 8, or later depending on availability. 
do you think they've done the right thing?
let us know in the comments!
0
0
0
0
0